Finding that elusive combo of luxury and affordability in your dream home doesn't need to be difficult. Thanks to North Carolina's Big Hills Construction realization of this dream is now a possibility. Beginning at just $700,000, the company opens doors to an array of housing alternatives from charming cozy homes to cavernous family houses. Our company ensures that customers can find their ideal home – one that perfectly embodies both affordability and elegance. Thus, catering to the varied tastes and requirements, making perfect luxury real estate reachable.
Elegance inspired by nature
Luxury and elegance isn't solely defined by astronomical prices, and Big Hills Constructions embodies this sentiment. Teaming up with skilled architects who emphasize minimalism and grandeur, Big Hills distinguishes itself by harnessing the aesthetic of the natural landscape.
Big Hills Construction's architects strive to emulate the inherent elegance of nature, ensuring their new construction houses and luxury real estate blend seamlessly with the environment. This results in a symbiotic relationship between man-made structures and nature, where new luxury homes harmoniously meld into their surroundings without appearing intrusive.
Affordability: varied prices for every budget
Securing a stunning yet affordable new simultaneously elegant and luxurious house that complements your taste and budget can be challenging, but with Big Hills Construction it is possible. Company offers an extensive selection of brand-new luxury homes, enabling the dream of homeownership to become a reality.
Prices fluctuate between $700,000 for cozy, sophisticated family homes, down to 5 million for luxury spacious houses. The excellent quality of materials, detailed design plans, and accomplished craftsmanship infused into each house assures that each residence is worth its price, if not more. Our dedicated team will assist you in navigating the luxury real estate market, providing advice and support at every phase.
Thoughtful design for every taste
Big Hills Construction, a premier construction firm, excels in developing new construction houses and new luxury homes. With a focus on sustainability and practicality, each residence is thoughtfully designed using wood as the primary material. With our new elegant houses and luxury real estate, we guarantee that each of our new luxury homes integrates seamlessly with the environment through our environmentally-friendly practices. Big Hills Construction has built more than 200 new houses in different part of Asheville, nestled in various scenic locations such as vast meadows, lush fields, picturesque forests, or enchanting mountain hills, our new construction houses offer the perfect dwelling, combining beauty and comfort to suit your unique lifestyle and preferences. Projects crafted by Big Hills Construction can currently be found at Mills River Crossing, Victoria Hills, Stone Ridge at Hayes Mountain, Big Hills at Horse Shoe, The Cliffs.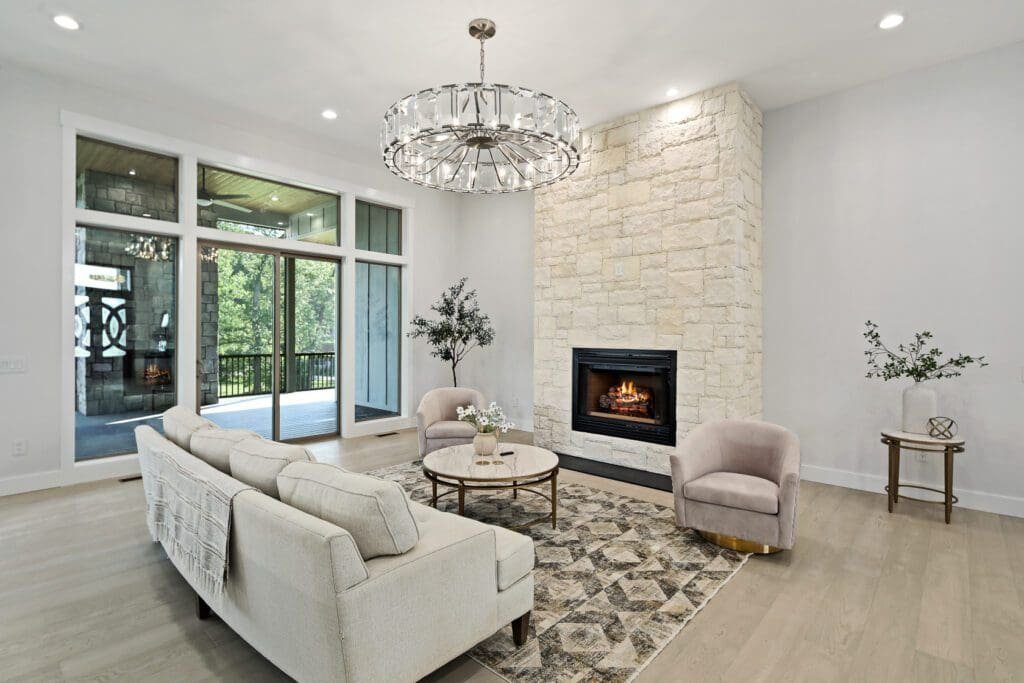 In North Carolina, locating premium new houses at Big Hills Construction is your pathway to a luxurious lifestyle. Be it a modern chalet or luxury real estate with ultramodern design, Big Hills offers homes starting at $700,000, reflecting the unparalleled value, quality of craftsmanship involved. Furnishing the ideal balance between affordability, elegance, and dignity, get all that you've dreamt for. With nuanced understanding of the local market, the company focuses on transforming your new luxury homes journey into an accomplished fact.