The exterior appearance of your home is almost as important, if not as important, as the interior design. After all, it is said: "Fine feathers make fine birds". We predominantly tend to want to make a good first impression, both on our guests and potential future buyers, where the appearance of the house significantly affects its value.∂
Our main principles and approach to get the trendiest still timeless luxury house:
1. Monochromatic trends prevail as high-contrast styles take a back seat:
Over the past few years, the trends for the exterior decoration of houses have changed quite a lot – if 2-3 years ago it was very popular to use bright contrasting colors, as with front doors, for example, now customers want to differ from this eye-catching palette in favor of using a simple but elegant one color solution.
2. Experiment with a blend of textures: Wood, Metal, Stone: A Symphony of Materials:
Your home's exterior doesn't need to be exclusively brick, exclusively stone, or wood. Combining different materials adds visual intrigue, especially when you introduce unique accent elements.
3. Trimless, geometric windows are on the rise:
To bring creativity to your luxury house use your doors and windows. In modern architecture, as in nature, everything is moving towards a "cleaner" look. so now the trend of window drywall trim, or also no trim (with no casing around), is returning to make your luxury home timeless.
4. Warm and welcoming ambiances with earthy tones and dark paints:
Since the Pandemic times, the demand for home offices surged as remote work became more prevalent. While some have started returning to traditional workplaces, the enduring preference for homes as cozy, secure havens endures. Dark and earthy hues, along with warm whites, are now en vogue, offering a timeless yet refreshing transformation for those looking to update their home exteriors.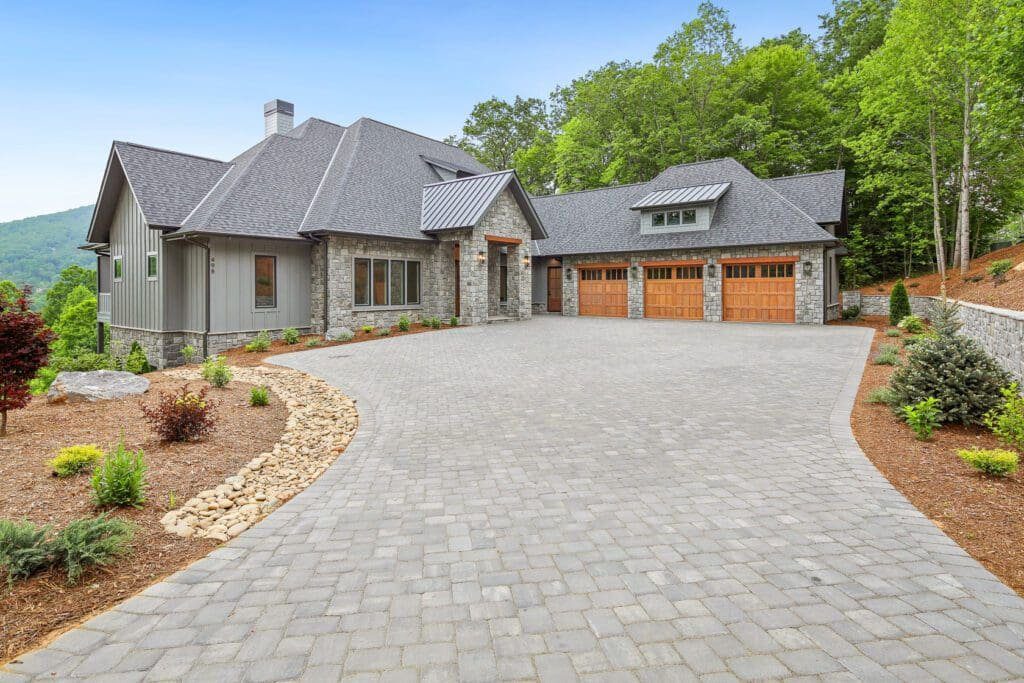 Big Hills Construction, will help you get any luxury house in the vicinity of Asheville, in such top places as The Cliffs, Mills River Crossing South, Stoneridge at Hayes Mountain and other neighborhoods, more detailed information about which you can view on our site.